Upper Funnel Activation (UFA)
Not every campaign has the same goals, and yet the marketer's targeting toolbox is highly concentrated in demographics (not predictive of future purchase behavior) and past purchase history (not useful for getting incremental customers). Introducing Upper Funnel Activation that optimizes COST to acquire NEW CUSTOMERS. Top marketers, researchers, and even Wall Street analysts agree that new customers are the lifeblood of any thriving company.

Growth in market share comes by increasing popularity; that is, by gaining many more buyers
Dr. Byron Sharp, How Brands Grow

STOP TARGETING EXISTING BUYERS – It is a waste of money, and causes highly wasteful ad frequency
Winning Brands are switching from Purchase Based Targeting to Upper Funnel Activation. UFA is already preferred for industries with long purchase cycles, but ABCS is the first and only company to offer UFA for CPG and other industries with short purchase cycles.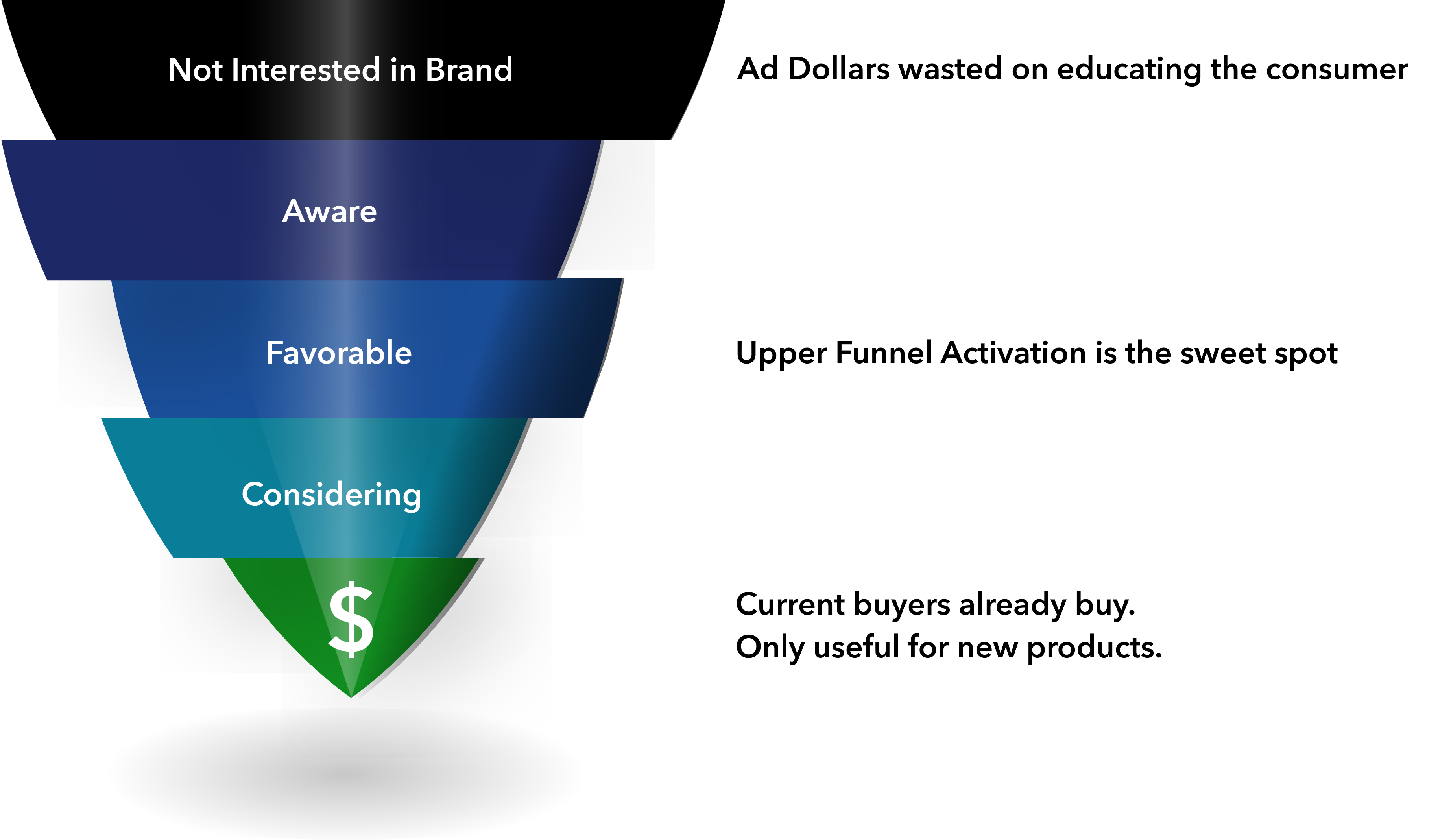 Of all the brands that grew over the past year, 79% of them did so by recruiting more shoppers
Kantar World Panel- Brand Footprint


All future growth hinges on one thing – customer acquisition.
BigCommerce Holdings, $6 Billion unicorn trading at 60x Sales

How we do it
Our data scientists take large-scale brand survey data, combine with billions of previous purchase points to create the most predictive and deterministic view of an individual's brand affinity profile across 1,000s of products. This individual identity-centric view is perfect for activation.

Activate prospects NOT existing customers

Of growing brands, grow by Activating Upper Funnel, non-buying new consumers

Increase Reach and Efficiency

Annual Churn Rate of Brand Loyal Shoppers
Works with all the top DSPs and DMPs to fit your campaign.